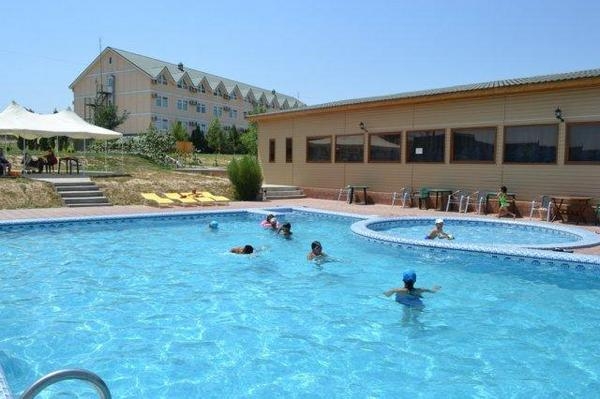 Resorts
South Kazakhstan Region,
41.4593, 69.2218
Description
The Saryagash resort zone is located in the South-Kazakhstan region in 130 km to the south from regional city center Shymkent.
Mineral springs of Saryagash have been opened in 1949 during the oil exploration. One of the wells, drilled to a depth of 1100 meters, has given self-streaming hot mineral water. Thermal springs became a place of the improvement and rest organization. Saryagash water helps in many diseases. Experts and the people, who have visited the resort, highly respond about its medical effect.
Saryagash water contains a hydro carbonate (НСО3). Scientific researchers have shown that the mineral waters containing a hydro carbonate have special value. Compensating a lack of carbonates in blood, they raise its alkaline reserve and have alkalization effect. Such water is well assimilated by the organism. Getting to the stomach reacts with gastric juice and stimulates the secretory activity of the stomach.
Besides, Saryagash water is alkalescent and brackish with prevalence ionic hydro carbonate. It is very palatable. In the composition contains naphthenic acids and micro cells of potassium, sodium, calcium, magnesium, iron, chlorine, and vanadium.
Its main medical effect consists that it removes inflammatory processes in a stomach, an intestine, a gall bladder, healing of ulcers, possesses strong diuretic, cholagogues properties and regulates the acidity of gastric juice. Saryagash water also has a beneficial effect on a functional condition of the nervous system and endocrine glands, contributes to the restoration of immunity and improves a metabolism. Besides, reduces the level of the general cholesterol in the blood, normalize the function of a liver and regulates blood sugar.
Sanatoriums of Saryagash resort serve the protection of the health of people for many years. Among them are already known and new with modern comfort and residing in high-quality hotels.