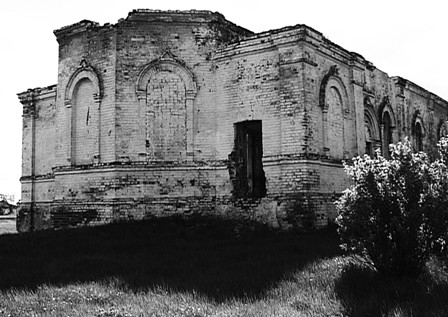 Holy places
Kostanay Region

Description
Ruins of the Annov church are in Sarykol district of the Kostanay region. Many years ago at the request of the maid of honor of Imperial Majesty Anna in the territory of Sarykol district in the village of Annovka in whose honor it is also called, the temple has been built. Near the church, the high belfry has been located, and tops are decorated with gold domes. With the arrival of the Soviet power have made the decision to demolish the temple.
However it wasn't simple to be made, the temple has been built of the natural materials used by the production of a brick for temples. Annovka is gold-domed, Anna Sheremeteva differed in mind and ingenuity. The place chosen by her for the settlement and the temple was on the eminence, near the deep lake, and has been surrounded by fertile lands.
To begin construction of the church, it has addressed to the department in Novonikolayevsk as then Kostanay about the construction of the temple was called. Of course, not fully – then funds were raised for similar affairs in public. People have been directed to construction, and the population of nearby villages and Annovka most under construction has been imposed with a peculiar tax – in the form of eggs, milk and other natural materials used in the production of a brick for temples.
The solution based on these components is so strong, as today it is impossible to break a wall of this church. Construction of the temple lasted several months. The finished structure was really monumental: eyewitnesses said that the Annov church surpassed by the parameters the big Bohr church which to has well remained up to now.
Near the temple, the high belfry has been located, and tops have been decorated with gold domes from which shine was visible at a huge distance. But days of a bloody revolution have come. The Soviet power has come also to this region. Here too there were adherents of the new power. They have made the decision to demolish the temple. However, it for the above-mentioned reasons to make was difficult.
Completely the temple couldn't be destroyed. The belfry was sorted, domes have taken down, and, above all have adapted the room for the club. Annovka has lost the status of the heist center, became poorly populated. However, you shouldn't think that the temple is absolutely abandoned. Yes, he looks it is deplorable, inside everything is destroyed, there is no roof, but, nevertheless, from nearby villages here still there come to the believing people to pray in these walls.
Say even that in one of the walls of the temple a certain relic which gives praying special grace is immured. And, say, so far she, till that time also the Annov church will be stored.