Republican Education Health Center «Baldauren»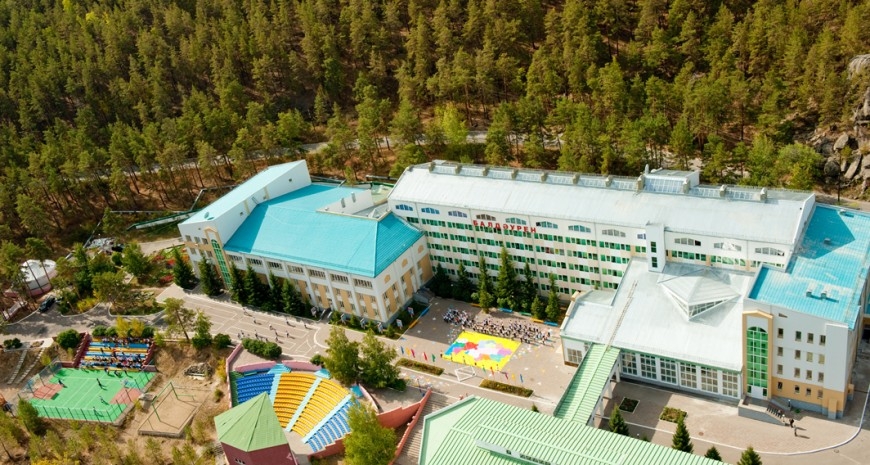 Children's camps
Akmola Region,
53.0813, 70.3551
Description
Republican Education Health Center «Baldauren» was created by the initiative of the Head of the State N.A.Nazarbayev according to the governmental order of the analog of the International Children's Center "Artek".
"Baldauren" is a Republican scientific-methodical center on the organization of training, educational and recreational activities, as well as the venue of the International Children's and the Republican culture-mass, scientific and practical activities. Republican educational health center "Baldauren" is located in one of the most picturesque places of Kazakhstan, in Burabay resort area on the shore of Lake Shchuchye.
Today "Baldauren" is the only center in the CIS and Central Asian region, organizing rest and recreation of children and teenagers, creating the necessary conditions to develop their creative abilities.
The centre works all the year and take up to 350 children from 16 regions of Kazakhstan in one term. Duration of the term is 15 days in summer and 20 days in a period of school year.
Modern and comfortable conditions are provided for children's studying and living. All rooms are comfortable, each has a hydro massage shower. Children have 5 times nutrition, prevention and wellness activities: massages, hydrotherapy, mud baths, saunas, cocktails, fresh pine air.
The total area of ​​the Centre is 8.62 ha, useful area - 15,288 sq.m. There is a school, a six-story dormitory, where the school is on the first floor, 2 -3 - 4 floors for bedrooms, 5th floor is an administrative, the 6th floor - game halls. Five-storied medical complex. Sport two-storied building. A three-storied administrative building. Indoor Pool. Boiler and laundry and auto-transport.
The Centre offers health and recovery procedures, equipped classrooms of physics and chemistry, computer classrooms with e-board "active screen". A modern library with a book stock of 20,000 books. Group room. Track and skating rink. Summer and winter sport playgrounds with universal coverage. Campfires, fitness, sports and gaming halls, tents, swimming pool, like a snow-white ocean liner, which includes a large swimming pool on international standards and a small swimming pool for beginners to swim.
Children live in comfortable rooms equipped with hydro massage showers. There is a five-time high-calorie diet rich in vitamins of fresh vegetables and fruits. Dietary tables.