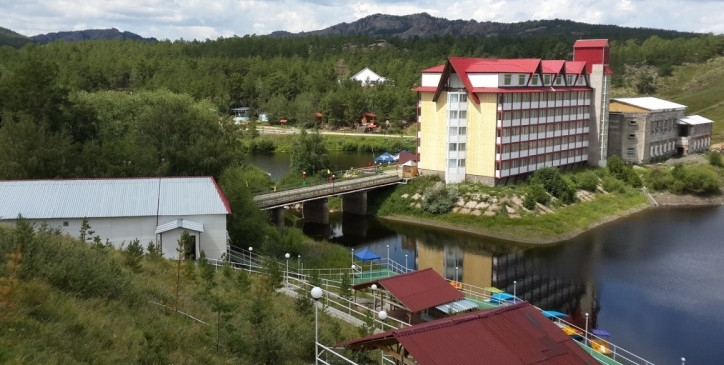 Recreation centers
Karaganda Region

Description
Mountain hotel Tas Bulak of the city of Karaganda, various excursions will be offered vacationers of the recreation facility. Around the pine and birch wood, lakes with water of life.
Present yourself unforgettable rest in fantastically beautiful nature of Karkaralinsk. Ancient Mount Karkarala – the biggest mystery of edge. In a small oasis – thousands of natural sculptures. Lakes are filled with turquoise water as bowls of the generous owner. The high odorous wood is full of mushrooms and berries.
The abundance of keys – characteristic of Karkaralinsky mountains. Water in them fresh and the cleanest. Karkaralinsk takes the important place in the economic and cultural life of independent Kazakhstan. There is a unique Karkaralinsky state national natural park in which there is a recreation facility "Tas of rolls". In more detail, you can learn about excursions below, in the section "Excursions"
Placement
In the big territory of hotel 2 cases are located: Business case and Economy case. The main difference of these cases - an arrangement. The business case is located on the bank of lakes, in proximity from the main places of entertainments (the beach, cafe, the center of services, baths, etc.) and restaurant. From the Economy case to the restaurant - 300 meters. The prices of numbers in the Business case and the Economy case it is possible to look below, in the section "At numbers and the prices" 7
Food
3-times food is included in room rate. In 2014 "Buffet" was introduced - now on an all inclusive system, we offer a large number of types of salads, hot, fruit, pastries, wine, beer, kefir, koumiss and other types of drinks.
Entertainment and leisure
Vacationers the Mountain hotel Tas of rolls offers a set of options of carrying out free time: the prepared beach, baths, the outdoor pool, excursions in Karkaralinsky national park or to the city of Karkaralinsk, rope parks, SPA procedures, catamarans, boats, a shooting gallery, bicycles, rollers, billiards and is much another. You can look at the prices of paid services below, in the section "Prices of Paid Services"
For children
For children in a hotel, there are a nursery and the playground. Nurses, animators work. There is a paddling outdoor pool and also the children's rope Mowgli park. You can look at the prices of paid services below, in the section "Prices of Paid Services".