Sanatoriums in Taldykorgan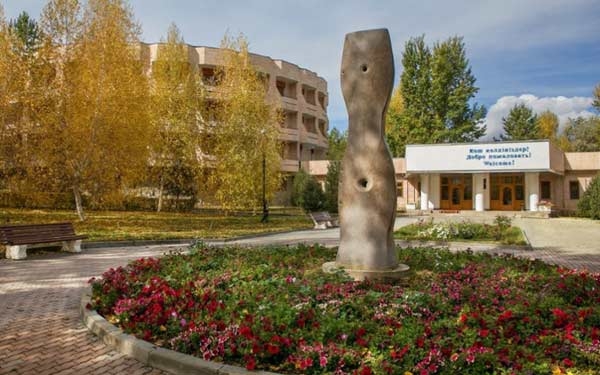 Sanatoriums
Almaty region,
45.0098, 78.4214
Description
Health resort hotels of Taldykorgan city, which is situated in one of the most beautiful regions of Kazakhstan, offer health improvement treatments on the basis of the local mineral water, as well as every opprotunity to have a good, well-organised holiday in Kazakhstan.
Will work only with the month of May, winter is not working.
Kapal-Arasan Sanatorium
Kapal-Arasan - resort located on the northern slopes of Mount Jungars Tau, Bien on the river 110 kilometers from Taldykorgan at an altitude of 975 meters above sea level. This - the first resort in Kazakhstan. It was opened in the late XIX century (in 1886). The average temperature in January is - -10 C, in July - +20 C.
Precipitation falls annually in the amount of 350 mm. In the year to about 2,830 hours of sunshine. The main therapeutic factors resort - it's mineral springs with sulphate-sodium chloride, nitrogen and silica. Water from springs is used for holiday-makers taking a bath and shower.
Resort Kapal-Arasan "is based directly on the territory of the springs in the heart of a green park-lined set of poplar and elm. Hence it offers a splendid panorama of the snowy ridges and peaks Djungarian Alatau.
Mineral springs Kapal-Arasan belong to slabotermicheskim. The temperature of the majority of sources - 35-37 C. For all indicators: temperature and chemical, these sources are similar to well-known sources Tskhaltubo.
Sources Kapal-Arasan considered therapeutic for people suffering from rheumatism, metabolism, problems with blood vessels, gynecological diseases. . This is a wonderful modern resort, combines the foothill climate, beautiful nature of northern Semirechie and unique mineral springs.
Karatal Sanatorium
Treatment and accommodation at Sanatorium - a dispensary Karatal
In the cost of the permit it is included:
5 single food, accommodation in number (a dignity knot, Otau TV),
Massage manual (10 min.) - mechanical massage — vibromassage,
The ionized water from the device "KYK Generation II"
dos Sharco, the circular and ascending shower,
Mud cure (dirt with the Lake Alakol)
Magnetic suckers,
medical bathtubs,
Salt mine,
Physical therapy,
Phytotherapy,
Inhalation,
Terrainkur,
Appointment
Leisure: gym, volleyball court, summer pool, table tennis, billiards, cultural actions.
In all numbers one, 2, 3-seater numbers are available: cable teleimage (Otau of TV), dignity knot, furniture.
Paid services:
Underwater extension of a backbone — 1000 tenges
Irrigation of intestines Amok - 2B — 2500 of tenge
Laboratory analyses from OLYMP https://www.kdlolymp.kz
Dyubazh a liver with magnesia – 1000 tenges
Mavit – 01 – 500 tenges
Pricks and droppers – 500 tenges