Medical-wellness resort "Oxy-Saryagash"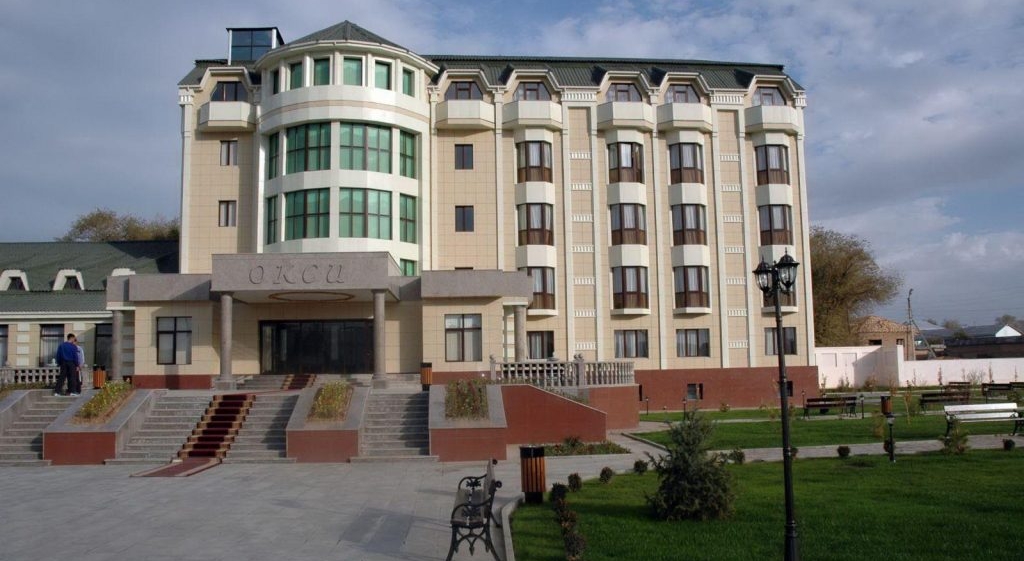 Sanatoriums
South Kazakhstan Region

Description
Resort "Oxy-Saryagash" is in the unique resort zone Saryagash in the south part of Kazakhstan, in 130km from the city of Shymkent.
Mineral springs of resort Saryagash was found during the search of the oil in the 1949. The first wells №7 were drilled to the depth of 1300 meters, it was the hottest flowing mineral water, which was used for treatments and preventions of various diseases. In the basis of the well there was built comfortable resort "Oxy-Saryagash".
If compare composition, properties, and therapeutic effect, the mineral water Saryagash is in the level of that kind of well-known mineral waters as "Borjomi", "Truskavec", "Zheleznovodsk", "Essentuki".
Centuries-old experience of using the mineral water in wellness of organism shows that the most effective physiological impact of water is observed directly from the spring, where the water saves its own natural composition and quality. That is why the resort "Oxy-Saryagash" is featured with its own well-room, connected directly to the spring, where you can drink mineral water in three degrees 22°С, 38°С, 42°С.
Rooms and equipment
The resort Saryagash offers 60 rooms in different categories: "economy class", "standard", "Junior" , "Luxury" and "Super Luxury". Each room has towel, bathrobes, slippers and personal hygienic things (soap, toothpaste, toothbrush and shampoo). All the rooms are equipped with refrigerator, plasma TV, settlement television, also there are conditioner, safe, floor heating, full bathroom (except rooms of economy class), which is served with ecological fresh water, in order to avoid oversupply mineralization of organism. Also, in the basis of fresh water gets the preparation of food, that kind of water is used for filling swimming pools and for the technical purposes. There is a silent lift in the buildings of resort.
Features of resort
The resort "Oxy-Saryagash" has big swimming pool, which is paid including the price of permit.
Nutrition in resort
The resort affords four-time nutrition in restaurant, including to the price of permit. There is a system of custom menu that is developed with the help of diet sister taking into account the doctor's diagnosis.
Infrastructure of resort
For the service of guests we offer: swimming pool, gym, summer bar, room for card games, sauna, billiard hall, game room for children, rooms for pray.
Diagnostics
There are laboratory researches in resort (general analysis of blood, general analysis of urine, biochemical analysis of blood determining 10-11 counts of blood), laboratory researchers of urological and gynecological diseases (smear).
Instrumental methods of survey (Ultrasound of internal organs, fibrogastroduodenoscopy endoscopic survey of the stomach, duodenum 12), Colonoscopy (endoscopic survey of the colon, rectum), echoencephalography, electroencephalography, cerebral vascular Doppler ultrasound, electrocardiogram.
There are the following doctors who take and prescribe an individual program: therapist, neurologist, cardio rheumatologist, dentist, chiropractor, urologist, gynecologist.
Treatment methods
There are the following treatment methods in the resort "Oxy-Saryagash": mineral baths, antler and selenium baths, turpentine baths, underwater shower massage, circular shower, Sharko shower, rising shower, SMT, electrophoresis, laser therapy, electric, diathermy, UHF, four-chamber galvanic bath, ultrasound, vaginal irrigation, paraffin-ozokeritotherapy, infrared cabin, therapeutic cleansing enemas, fill, gastric lavage, hardware intestinal irrigation (colon hydrotherapy), duodenal intubation, inhalation, UFO, herbal medicine, underwater spine traction, massage.
The resort also provides additional medical treatment of neurological, surgical, cardiac, dental and cardiovascular diseases.