Aray Deluxe Thermal Resort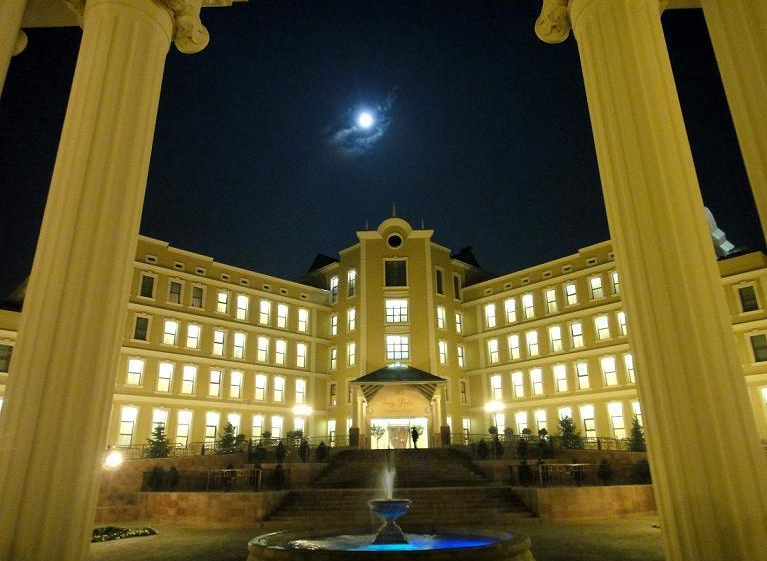 Sanatoriums
South Kazakhstan Region

Description
We are glad to present to your attention the country's first improving complex of the level of 5 stars Aray Deluxe THERMAL RESORT. The luxury new complex is located in the mineral resort of Saryagash in 130 km from Shymkent and in 14 km from the city of Tashkent.
If you dream of a magnificent and distinguished situation, of high-quality and professional treatment, of good rest in the atmosphere of serenity and full tranquility, then Aray Deluxe THERMAL RESORT is created for you. Saryagashsky mineral water belongs to natural, nitric, alkalescent, low-mineralized akroterma. More than 30 minerals, vital for the person are its part. The uniqueness of our mineral water - in her youth. A source of Saryagash mineral water the first sanatorium - in 1953 was open in 1946, and. Biopower properties of water well influence an organism and all its systems. The effect of a drink of mineral water directly from a source is highest and useful.
Additional services
The GOURMET restaurant, is the pride of our complex, is located on the first floor, offers the hall on 70 places and is open for you round the clock.
Our chef will treat you with tasty dietary dishes and refined sea and meat delicacies, and also surprising desserts. The chosen collection of vintage wines and drinks will present you the unforgettable pleasure of the spent evening.
ROYAL BAR – the cozy place for evening pastime. Here you can enjoy refined drinks in a circle of the friends. The fireplace and live music will create the atmosphere of house heat, a coziness, and comfort.
SUNNY BAR is an ideal vacation spot, here you will plunge into beams of the sun and transparent waters of the pool, and also enjoy magnificent cocktails. The bar is located near the pool in the open air.
HEAVEN of bars is in the SPA center of our improving complex. We will be glad to offer you tasty and useful "healthy" cocktails and phyto-teas.
The procedures which are offered in the SPA center of an improving complex
Aray Deluxe THERMAL RESORT will fill you with vital energy and a charge of cheerfulness. There is everything – for a face and a body.
The SPA complex includes:
Turkish to boors
Finnish sauna
Peeling (with coffee or I will merge)
World famous types of massage
Exotic aromatherapy
Face packs and bodies
Two pools (opened and closed)
Fitness center
Business center
Conference rooms
Movie theater
Golf
Riding
Pool
Excursions
FOR CHILDREN
Especially for little guests of a complex we offer:
services of the nurse (are paid in addition)
children's playground
Sony play station
MEDICAL SERVICE
List of medical procedures:
Mineral bathtubs jacuzzis
Antler, selenic, fir, iodine-bromine, turpentine, magnesia, dairy bathtubs jacuzzis
Mineral shower of all types (a diving shower massage, Sharco, the ascending shower, a circular shower)
Blind sounding
Medical micro enemas
Treatment by the computer laser Andro-gin complex
Hardware intestinal irrigation
Laser therapy
Laser intravenous radiation of blood
Magnetotherapy
Udarnovolnovy, ultrasonic therapy
Noninvasive hardware Mesotherapy
Phytotherapy
Hardware lymphatic drainage
Electrotherapy
Ultrasonic therapy
Electrophoresis
Bioptron
Types of analyses:
Gynecologic and urological dabs
Ultrasonography of all bodies
GBT (General Blood Test)
GAU (General Analysis of Urine)
Biochemical blood test
FGDS (Fibrogastroduodenoskopiya)
Kolonoskopiya
Electrocardiogram (Elektrokardiografiya)
Consultations with doctors:
Therapist
Gastroenterologist
Nutritionist
Physiotherapist
Urologist
Gynecologist
Neuropathologist
Otolaryngologist (ENT SPECIALIST doctor)
Mammologist
Proctologist
Endoscopist
Cosmetologist
Manual therapist
Conveniences in the rooms
We provide 43 comfortable rooms, meet all requirements of the European standards of level of five stars:
* Royal Suite – 1 room, 350 sq.m, a Jacuzzi, a gym, a massage table, the dining room, kitchen, a drawing room, a bedroom, a study, a briefing hall and separate number for attendants.
* Deluxe – 6 rooms, 75 sq.m, a loggia with a Jacuzzi, sleeping, a drawing room, shower, a bathroom, big bar.
* Premium Luxe – 2 rooms, 55 sq.m, a bathroom, a drawing room, sleeping.
* Premium – 33 rooms, 30 sq.m, a bathroom, sleeping.
In all numbers, there is a double bed, the plasma TV with satellite television, phone, a minibar, system climate of control, the individual safe. Individual service in number is provided with service room-service which works round the clock and logs in restaurant service.
Meeting at the airport, the railroad station, bus station
According to your desire, we will meet you in the city of Shymkent, and we will deliver to the improving Aray Deluxe THERMAL RESORT complex. Also, we can provide service a limousine service for our guests.
Payment method: cash, bank transfer, credit card
Address: Kazakhstan, the village of Saryagash in 130 km from Shymkent and in 14 km from the city of Tashkent
Phone number: 8 (72537) 51536; 8 (72537) 51717
Whatsapp or Fax: 8 (72537) 51536; 8 (72537) 51717
E-mail: info@adtrh.com