Memorial Complex of Kazakh Bard Birzhan Sal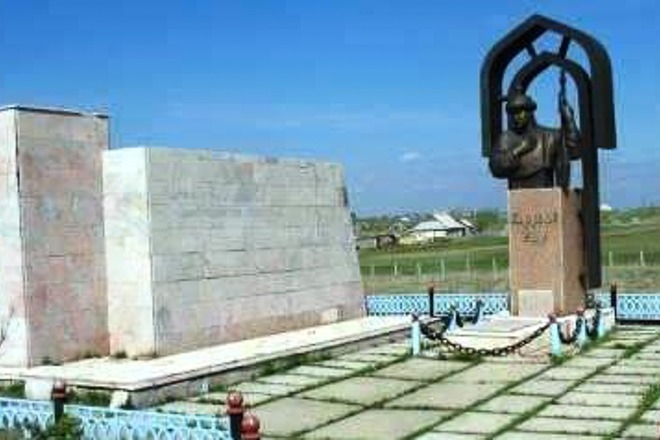 Cultural heritage
Akmola Region

Description
Architectural and memorial complex in honor of the poet and Kazakh composer Birzhan-sal was opened on 14 September 2012. A small town Stepniak of the Akmola region is considered as the birthplace of the great bard. Here is a grand structure, which is becoming a major local landmark.
Birzhan-sal - a unique poet, singer and composer, whose works glorified his land Sary- Arka. In the nineteenth century, there was no equal talent to him in the Great Steppe. Each of his work can be called as a true musical masterpiece.
Birzhan-sal Kozhagululy (1834-1897) became famous as a singer with outstanding vocal and masterfully accompanied himself with dombra from his early ages. Famous songs of the bard were sang by famous singers of Kazakhstan. Birzhan-sal denounced the tyranny of the steppe rulers on his songs such as county Zhanbota and Aznabay (who ordered to break Birzhan – sal's dombra for insubordination during his visit to Steppe General- Governor Alexander Dyugamel in 1865). Anger and contempt were heard in songs "Zhanbota", "Adaskak" and others. Seal of the tragedy was marked on his last songs "Zhambas Sipar", "Temіrtas" and others, which imbued with despair and sadness.
More than forty songs are preserved until the present day, including such well-known masterpieces as "Birzhan", "Adaskak", "Kokshetau", "Zhanbota", "Lyailim Shyrak" and many others.
Birzhan-sal was also a consummate master of aitys. His poetic competition with Sarah Tastanbekkyzy, which was in Semirechie, in 1871, became a classic of the genre. In 1946, composer Mukan Tulebayev wrote the opera "Birzhan and Sarah" on the basis of this aitys, which included the main song of Birzhan.
Memorial complex is an architectural composition, which was established on the highest point of the city. It is noteworthy that this entire complex was built for the charitable funds collected by local residents of the great musician.
The erection of the memorial has become general: someone contributed money; someone had assisted in construction works. All associated works with the construction were done by local construction firm LLP "Kasiet master".
Sculpture of the composer with height of six meters occupies the central part of the architectural and memorial complex. The sculpture is a figure of the great bard, who is standing on a high pedestal with dombra on his hands, and his look at the distance, as if he sings one of his immortal music.
Small Square was broken around the pedestal, and installed a cozy gazebo; stone blocks laid tracks, lawns, decorative lights and even a fountain. The author of this composition was Kokshetau sculptor - Munarbek Burmaganov.
The memory of the great Birzhan-sal occurs throughout Kazakhstan, opened monument in Kokshetau 1991, «Kazakhfilm» shot the feature film «Birzhan-sal" in 2009 (directed and starred by Doskhan Zholzhaksynov).
This movie is about the choice between pride and humility, dignity and humiliation, honor and dishonor, and another story of poignant last love and loneliness. The shooting of this film was in homeland of Birzhan-sal, in Kokshetau.