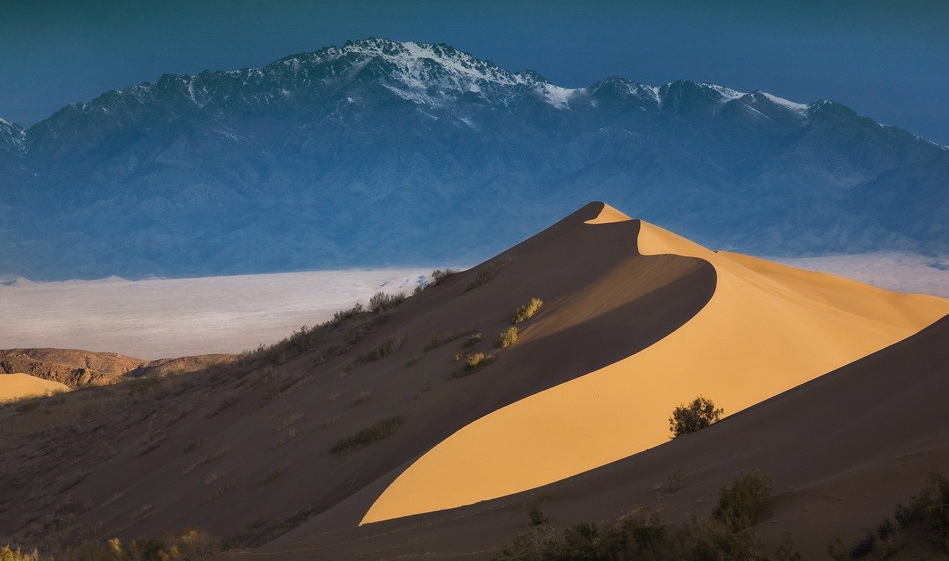 National parks & reserves
Almaty region,
44.3325, 78.4402
Description
Altyn-Emel State National Nature Park is sprawled in the heart of Central Asia, in the valley of the Ili River, about 150 kilometers away from Almaty, Kazakhstan's largest city. The park was established in 1996 to preserve the unique natural complex of this region.
Mystery of the Singing Sands
So called Singing Dune or Signing Sands is a popular attraction in Altyn-Emel. The size of the Dune is enormous: its length is about two-three kilometers, with the height of about 120 meters.
What is unique about the Dune is that in dry weather it produces melody-like sounds, which is the very reason of calling it Singing Dune. The 'song' of the Dune can be heard even several kilometers away from its location. Do why the Dune sings? The reason might be that the sound is produced when very small grains of sand rub against one another: a gust of wind gives easily audible squeak, and strong gusts - more intense and expressive sounds, which resemble sounds of an organ. However, even in calm weather one can hear the music of the Dune.
Yet another mystery about the Dune is that despite the unfixed sand, it does not travel, and remains in the territory of Altyn-Emel for about several thousand years.
A legend among the local people says the great Genghis Khan and his faithful warriors are buried under these sands. So the Dune signs when the soul of the Khan, exhausted by the spiritual unrest, tells his descendants about his victories.
Besshatyr and the 'Stonehenge' of Kazakh Steppes
Another attraction of Altyn-Emel Nature Park is Besshatyr ('five tents' from Kazakh) – a complex of five royal burial mounds, which look like natural hills, above 20 meters each. According to historians, Saka (Scythian) rulers of VI-III centuries BC are buried there.
45 solid blocks of stone, carved with images of animals, are lined up along the burial mounds. According to tourists visiting this place, these stones can be compared with famous Stonehenge in England (UK).
Tamgaly Tas
Tamgaly Tas is a famous monument of ancient rock carvings – petroglyphs. They are likely to be carved more than two thousand years ago, approximately in XVI-XIV centuries BC. Among the depicted images there are mysterious Gods and Buddhistic inscriptions, widely known among experts of Indian culture. Archaeologists suggest that there used to be a sacred Buddhist temple, used for prayer and meditation by local people. In addition, Tamgaly Tas has preserved ancient Turkic runic inscriptions of VIII-IX centuries, which might be left by Kipchaks.
Katutau and Aktau – unique natural landscape of the Park
Marvellous mountains of Katutau and Aktau with their unusual surfaces are other unique attractions located in the territory of Altyn Emel National Park. The former is famous for its unique appearance, which was probably created by small volcanoes, erupted and immediately cooled down several thousand years ago. Today its unique shapes are well preserved and remain the same. These shapes include holes of all forms and sizes, grooves, cracks, gyrus, which sometimes resemble shelves, sometimes cups or royal throne, just let your imagination guide you.
Aktau mountains could surprise you by its red, green, pink or even pale blue colored stony slopes. The mountains are likely to rise from the place where there used to be sea, which left its traces on the surface of the mountains. Archaeologists have discovered dinosaur bones in the mountains of Aktau, and remains of other species are being found even today.
Flora and fauna of Altyn Emel
Altyn Emel is also rich in unique plants and animals: among 634 species of plants growing in the park, 41 are rare and 27 are endemic, i.e. grow only in this region.
An enormous-sized elm tree grows there, which is more than 700 years old. Eight people need to join their hands in order to fully embrace the tree. It is so old, that it probably witnessed Genghis Khan's warriors, drinking water from a nearby water spring.
There is also a tree with extremely hard bark, which was used by people to cut arrows in ancient times. This tree is called 'stone tree'.
56 species of animals and 40 species of birds that live in the Park are listed in the Red Book of Kazakhstan. These are snow leopard (Panthera uncial), wild Pallas's cat, also known as Manul (Felis manul), Middle Asian river otter (Lutra lutra), Stone marten (Martes foina), etc.
Moreover, about 700 Turkmen koulans live in Altyn Emel. Ili river and Kapshagai are rich in fishes such as grass carp, sheat-fish, bream, etc.
Recreation at Altynemel National Park
Sandy banks of Ili river are ideal for sunbathing and its warm water for swimming. A great view to 100-metre red rock can be seen from these banks.
On the way from one attraction to the other tourists can have a rest and try Kazakh national drinks, such as shubat or kymyz (kumys), which are perfect for quenching one's thirst. In addition, horse or camel riding could be offered to the guests of the National Park.