Bokey Orda District of Khan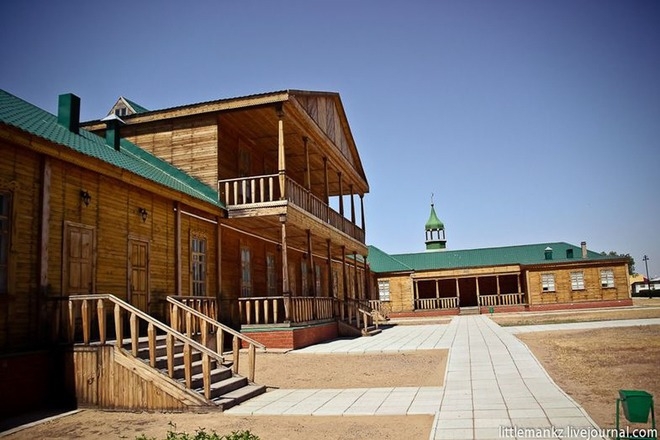 Cultural heritage
West Kazakhstan Region

Description
Bokey Orda district of West Kazakhstan region is one of the unique monuments of the 19th century. The Homeland of first-born is also rich by its ancient history and pictorial nature, because of this it is very famous not only in Kazakhstan but in the foreign countries too. In 1801 khan Nuraly`s second son Bokey Nuraliykhanov was founded Bokey Orda between Zhaiyk and Volga Rivers.
It happened after the permission of Pavel 1(the order of Pavel 1 from the 11th of March 1801) moved to right bank of Ural: ``I admit and permit to move everywhere, and as a token of benevolence I nominate sultan Bokey by gold medal with my portrait, which he should wear on his neck.`` In autumn of that year Bokey sultan with his dependent clans: Aday, Alasha,Baybakty,Bersh,Zhappas,Esentemir,Ysyk,Kyzylkurt,Kete,Maskar,Nogay,
Zhetyru,Taz,Tana,Tolengit,Sherkesh-5000 families migrated to the inner side of the Ural. It defined the formation of ``Inside`` Orda of the Bokey Orda.
In the 1st of June in 1812 Alexander 1granted the ruler of the ``Inside`` Kazakh Orda Bokey sultan by Khan Dignity. The solemn ceremony was in grove thereabouts from Uralsk city.
After the death of Bokey (the 21st may, 1815) until the age of majority of his son Zhangir the Bokey Orda ruled by Sultan Shygay Nuraliyev. In 1823 Zhangir became the Head of the Khanate.
After the solemn rate, in 1824 in Uralsk khan Zhangir got married on Fatima. She was a daughter of the mufti Mukhamedzhan Guseynov, she had good knowledge and knew different languages, music, dances.
Owing to the geographical position and territorial closeness with developed regions of Russian Empire the ``Inside`` Orda was closely involved to the economic and social-cultural life of Russia.
In 1824-1845, during the rule of Zhangir the Bokey Orda reached its pick in social life and culture, he changed political organization of the BokeyKhanate. It was a merit of Great reformer and clever politician khan Zhangir.
In summer in 1826 khan Zhangir and his wife Fatima was invited to Moscow, for participation on the coronation of Nikolay 1. The emperor generously gifted those expensive presents.
In the next 1827 was exchange of presents, which played very important role in the life of Bokey Orda : Zhangir Khan gifted a rich-decorated Yurt for Nikolay 1. The Emperor sent him 10 racy stallions, and in 1829 the Impress Alexandra Fedorovna sent to khansha Fatima gold attire with Brazil topazes. Since that time khan Zhangir and Kazakhs of the ``Inside`` Orda began to take care of improvement of horse`s racy. In the 50th years of 19th century in Orda started the horse racing with prize money for an encouragement of horsemen.
In 1826 was started construction of the khan`s house by plan of military engineer Tafaev and Zhangir. It gave rise to settled type of life. In result, the village which was formed in Zhangir`s house became to a vast Khanskaya Stavka, as a centre of political-economic life Bokey Khanate.
In one of the rooms of Zhangir`s house he collected weapons of different palace times and nations, also things which had family-dynastical values.
In 1828 ``weapons palace`` museum was opened in Kazakhstan.
In 1826 the first inoculations were made by the first Kazakh founder of the inoculations Syrlybay Dzhanibekov in Orda. Since that time Zhangir solicited for construction of the mosque and schools in Orda, also about founding of post message and hospital. Also khan thought that Yarmarka must be useful for strengthening of order in Orda.
In 1832 was founded Yarmarka which worked two times in a year-in spring and autumn, on 15 days in Khanskaya Stavka, Novokazanka, Novyi Uzen and Alexandrov Gay. In that year to Orda was sent out of state doctor A.A.Sergachev.
In 1835 Khan`s Mosque was opened for local believers, in the mosque worked tatars as akhuns, mulls. In 1839 the first drugstore in Orda started to work in Kazakhstan.
In 1836-1838 the rebellion led by Isatai Taymanov and Makhambet Utemisov undermined the basis of khan`s power in the Bokey Orda.
Zhangir khan was a very well-educated man, he knew Russian, Tatar, Percy and Arab languages. He kept up with development of enlightenment, participated in a research of the east end.